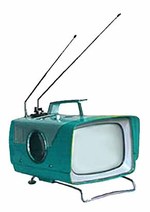 ....to Kings Cross TV - a local internet TV station for London's most exciting neighbourhood.  Loads of Kings Cross videos have been pulled together from all over the internet - we've got hours of stuff.  Ranging from purpose made campaigning material, to great nostalgia from the 1950s, to Kings Cross lunacy trawled up from YouTube.
You can look some of the best films in KXTV1 here, scroll down for the three most recent films - or choose a category from the list on the left.
I'd love to have your Kings Cross films please click here to send one in.
KXTV is an evolving pilot or 'beta' project - any hints tips and feedback are very welcome Click here to send an email.  I update the site by trawling YouTube every few months to see what people have uploaded that I can embed.