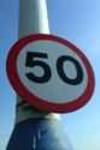 There have been dozens of unnecessary deaths and injuries over recent years while no action has been taken to make the A43 safer. The road is so dangerous that cars are diverting through the neighbouring vulnerable local villages creating safety hazards there.
We need our politicians to work together and take responsiblity – the road crosses several district, council and parliamentary boundaries – but road safety should concern us all. The Department for Transport is clear in Parliament that the road is the responsibility of Northamptonshire County Council. You can sign our petition to the Prime Minister on the No10 website by clicking here. It only takes a few seconds.
Research shows that even small reductions in speed can reduce the number of crashes, injuries and fatalities. Other research shows that speeds around 50mph make the most efficient use of road capacity.
This single carriageway road has a huge confusion of speed limits that forces frustrated drivers to overtake in dangerous places. Heavy lorries are limited to 40mph, lorries under 7.5T are limited to 50mph, buses and coaches are limited to 50mph, cars are limited to 60mph. So cars bunch up and get frustrated behind slow moving lorries.
The answer is simple to set one speed limit for all vehicles - 50mph enforced by the averaging cameras known to work on the A14 in Cambridgeshire (see categorical BBC report here), A43 Lumbertubs Way and A428 Bedford Road Northampton to Yardley Hastings. This can be done simply and quickly in a few months. Dualling the road will take a dozen years during which time more people will suffer and die.
Check out the latest developments in the 'recent posts' section on the left.
If you want to help the local people behind this campaign contact us by clicking here, sign up for an email update on the left or get in touch with your Northants County Councillor by using the service on the right and tell them what you think.