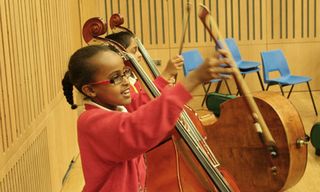 This September, the Orchestra of the Age of Enlightenment (OAE) launched into its fourth consecutive year of King's Cross Strings Club.  The weekly club with primary and secondary schools runs in four different schools local to the OAE office at Kings Place.  As well as the string club OAE works with six local primary schools and offers a programme that delivers teacher training, two OAE education concerts at Kings Place, workshops with OAE players and a visit to the Guardian Education Centre to create a newspaper page following a press conference with an OAE player.  
Introducing local children to Kings Place as an arts centre is a vital part of the OAE's Education remit.  The OAE Education programme stretches well beyond London but this flagship model of creating links within the KX community was developed locally and it is something we are now rolling out across areas in the UK with our most ambitious programme yet: Anthem for a Child.  
For more details visit our website  The OAE appears on the KX community map.